We are located at a beautiful Island surrounded by forest and sea. The underwater world has never disappoint any diver with the sharks, turtles, cuttlefishes, barracudas, eagle rays, octopuses etc. Even different kind of nudibranches for macro lovers and do not forget our colorful and lively corals! Possible a bonus offer by the nature, dolphins!
We are a simple but well run dive center which always promise to do the best for our customers. With a team of mostly local staffs, we are always provide the best knowledge not only in scuba diving, also Tioman Island itself to all our customers.
We are happy to serve the walk in or booking and customize a most suitable course or package regarding for the customers' needs.
From solo diver to a group, we are ready to deliver the service and fun! These was what we've been doing since 2008 🙂
– Reynolds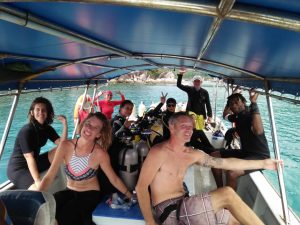 RDA is a small and simple set-up dive center unlike others on the island where we take care of all individual needs at anytime anywhere. We are very customized and flexible in delivering what you need. To be totally not rigid, this is what we believe in and how we work.
Our dedicated Instructors ensure that student receives a comprehensive understanding of scuba diving both on the theory and underwater. Safety is always the main criteria we emphasize. We do not compromise on safety. Therefore we make your diving truly a safe yet enjoyable experience. We care what you care.